Regular price
Sale price
$57.00 USD
Unit price
per
Sale
Sold out
Soothing, fragrant sandalwood is combined with lapis to create this strong yet light-weight mala.
Sandalwood is thought to attract positive energy and promote tranquility, and has since been used for incense since ancient times. Its calming scent is suitable for meditation and devotional practices.
Lapis is the gemstone associated with the Medicine Buddha. The blue color found in some rare ancient Tibetan thangkas (Tibetan Buddhist paintings) was made of ground-up lapis. The Medicine Buddha, the embodiment of healing energy, is described to be the blue color of lapis lazuli.
Materials: 8mm sandalwood beads with 10mm lapis guru bead and markers.
Made in the USA.
Find the matching Sandalwood and Lapis wrist mala here.
Share
View full details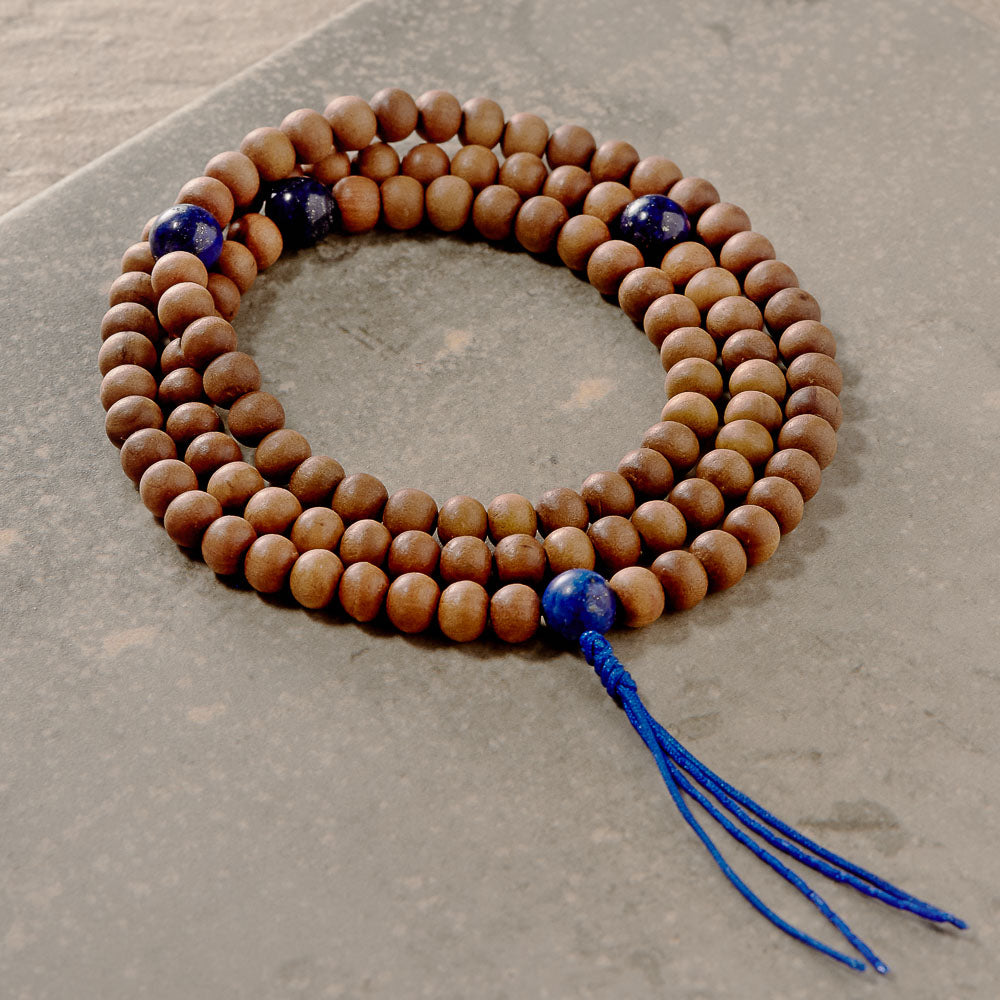 Mala means "garland" in Sanskrit. Malas have been used for thousands of years as a meditation and prayer tool by members of Dharmic religions and other spiritual followers. Stretchy wrist malas are often worn as a reminder to practice mantra at all times. Wearing a mala bracelet or necklace is especially convenient for a person who is ill and would like to recite mantra in bed; the mala beads are always right there on their body. Many spiritual people wear malas as a continuous reminder to be mindful.

Malas traditionally consist of 108 beads plus 1 guru bead. 108 is considered a holy number in Dharmic belief and symbolizes spiritual wholeness. The guru bead is not counted in the 108 because it only functions to signify the end/ beginning of a prayer cycle while using the mala. It is also common to find mala with fewer beads, such as necklaces and bracelets. These will usually have 54 (1/2 of 108) or 27 (1/4 of 108) beads, but mala with other factors of 108 can be found as well. All malas, regardless of number of beads, may still be used for mantra practice.