Regular price
Sale price
$39.00 USD
Unit price
per
Sale
Sold out
Reminiscent of the leaf from India's sacred Bodhi tree, this enchanting garland of delicate, natural leaf flowers will brighten your celebrations or create a wonderful atmosphere for reflection and meditation anywhere in your home.
Approx. 9 ft. strand with 20 lights on green wire. Can be strung together. Indoor or occasional outdoor use. Includes extra bulb and fuse. Handmade in Thailand.
Note: To prepare your lights for display, use a spray bottle to lightly mist each leaf cluster with water.
Share
View full details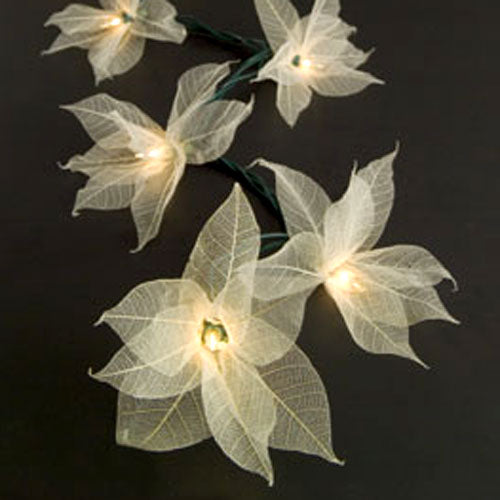 Did you know?

Our "Bodhi" Leaf flower lights are a sustainable, eco-friendly plant product made from REAL leaves. Village farmers in Thailand collect rubber tree leaves and soak them in the river to loosen the fleshy part of the leaf. The fleshy portion is carefully rubbed away, leaving only the delicate leaf skeleton. Eight leaf skeletons are wrapped onto each light to create a beautiful flower. The soft, luminous glow of this natural leaf lighting cannot be replicated with synthetic materials.

Every step of creating these beautiful garlands of luminous, translucent flowers is done by hand. And, because village farmers earn a living from this plant-to-product process, trees that would normally be harvested for income are now being protected to ensure a continual supply of natural resources and a viable source of income for the villagers.